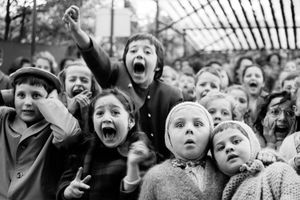 A bit more about our age-level recommendations... 
When we create a show, we try to make it as broadly-appealing as possible. That said, certain of our titles tend to skew younger, while others are better suited to an older age group. 
When we list a title as "appropriate" for an age range, it means that all the students in that range will enjoy the performance and get something out of the experience. If there is a "best for" age range listed with a title, it means that the students in this subset will probably get the most out of the performance. 
Pre-Show Meet and Greet 
We strive to make our shows dramatically compelling, and this means that our main characters will occasionally find themselves in perilous situations. While we feel that our productions are no stronger than your average Disney cartoon, sometimes a younger student – for whom the line between make-believe and real is still a little blurry – will find something on stage a bit too dramatic for his or her liking. To help counter this, we are happy to invite the younger classes (usually Kindergarten, but sometimes K-1) down to the playing area ten minutes before show time for a special Meet and Greet session with the puppeteers. During this Meet and Greet, the puppeteers will discuss the upcoming show and the differences between what is real, and what is make-believe. The puppeteers will also bring out the "bad guy" character (e.g., the Witch from Hansel and Gretel), which allows the kids to see the puppet as the pretend object that it is. Finally, the puppeteers talk with the kids about some strategies they can employ should they begin to feel anxious about something that is happening on stage. We have found that this Meet and Greet session helps the youngest children feel prepared for when the lights go down and the show begins. 
We are happy to offer the Pre-Show Meet and Greet  for any of our titles, but the shows for which we most recommend this Kindergarten visit are Hansel and Gretel, An Arabian Adventure, and Perseus and Medusa.  
There is no extra charge for the Pre-Show Meet and Greet.
If you'd like to schedule a Pre-Show Meet and Greet  for your performance, just let us know and we'll be happy to make the time for it!